Here is the text of a media release was issued by ETFO on September 10, 2019: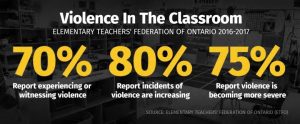 A new study on violence in Ontario public elementary schools confirms that violence against educators is taking a huge toll and is in part due to a lack of investment in front-line supports for vulnerable students.
"There's one major reason why educators have experienced a seven-fold increase in violence over the past 12 years and that's the lack of front-line supports and resources for vulnerable students, especially those with special needs and mental health challenges," said ETFO President Sam Hammond. "That's leading to higher rates of sick leave and WSIB claims among educators for physical and/or psychological injuries that they suffer due to violence."
"The Ford Conservative government's cuts to public education will only make matters worse. Without additional and dedicated resources for students with behavioural challenges based on actual need, violent incidents will continue to threaten the safety of educators, compromising teacher working conditions and student learning conditions. Ontario's faulty education funding formula must be fixed."
The University of Ottawa study, entitled Facing the Facts: The Escalating Crisis of Violence against Elementary School Educators in Ontario, finds that there are 'alarmingly high rates' of violence, with 54 per cent of educators reporting one or more acts of physical violence during the 2017-18 year. Sixty per cent report one or more attempts to use physical force against them. The study can be viewed at http://educatorviolence.net.
Hammond stated that, "Along with educators being often unsupported or blamed by the system for the violence they experience, many women educators are facing gendered violence in terms of language used, microaggressions and sexual harassment. Rates of harassment and violence from students are statistically higher among educators who identify as racialized, disabled and/or lesbian, gay, bisexual, transgender, queer or questioning (LGBTQ)."
"The report is clear. Vulnerable students need more front-line supports, earlier diagnosis and interventions, and smaller classes to get the individualized attention that they need," added Hammond.